15 March 2012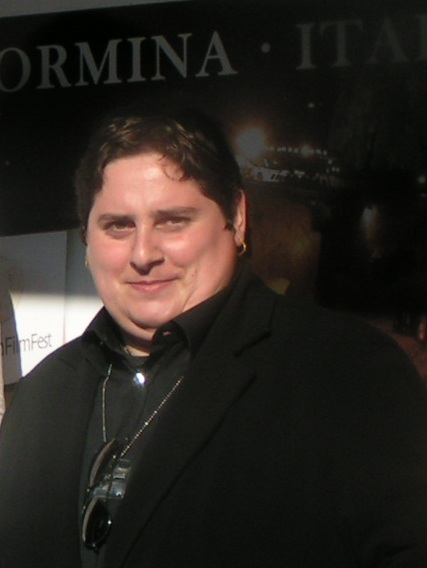 PRESS
Director Annarita Campo communicates that there are "fake profiles","fake interviews" and "false pages" on the web with the name and image
director, created by people we already aware of the identity. The head office of the administrator must also undertake prosecutions and civil suits against perpetrators
these pages. The director is relieved of any responsibility for
facts and / or damage has gone from "fake profiles" and "false" pages
and communicate to the navigation on the site of "mistrust" pages
who are not on official website.
______________________________
14 February 2012

PRESS
The Director Annarita Campo will February 26 the "Oscar Night"
to be held in Los Angeles-USA-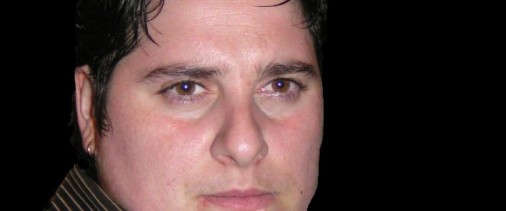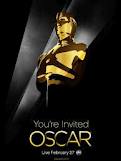 ______________________________

1 October 2011
PRESS
ANNARITA CAMPO
eas President of the Political Movement "CUORE DEL POPOLO"
tackles C. Calvo
and R. Giallongo"Forza del Sud".
(Read the press release below)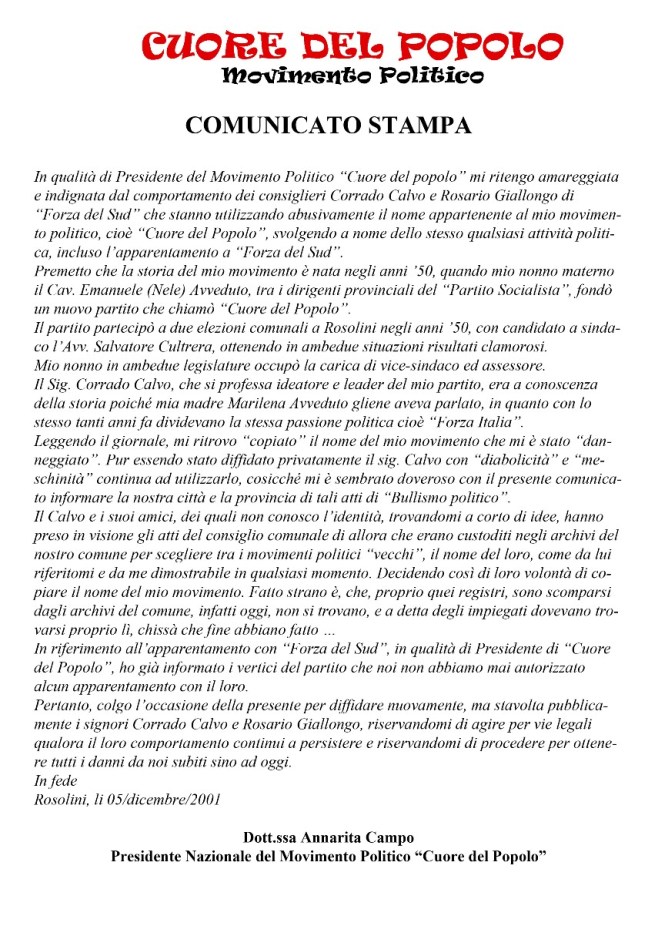 ______________________________
20 AGOSTO 2011
COMUNICATO STAMPA
The director Annarita Campo will be present
Updated August 28, 2011 at 21:00
the Pineta Comunale "Giovanni Falcone"
in Acquedolci Messina
during the last night of the film festival

______________________________
20 August 2011
PRESS
The director Annarita Campo will be "guest of honor" at the famous film festival
"AIFF-Acquedolci indipendet Festival" in Messina.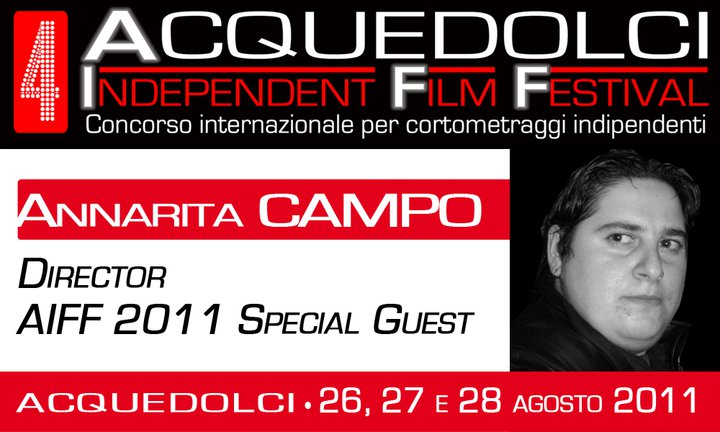 ______________________________
20 November 2009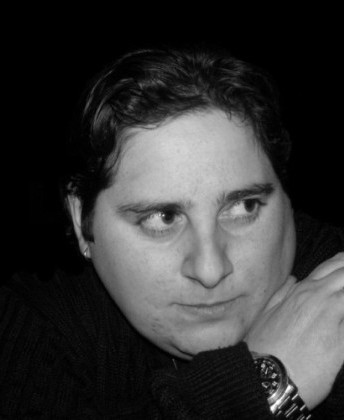 PRESS
"With this release deny that published a few days ago on the internet. In one of the many websites that talk about the singer DALIDA, was published an announcement of the creation of an exhibition of paintings signed by me also in this announcement asking for money to contribute to this exhibition. I hereby deny my participation in this exhibition and I urge everyone to be wary of this announcement and not to send money! Thank you!"
Annarita Campo
______________________________

MAGGIO 2009
PRESS GREGORIO NAPOLI
(Film critic and biographer Officer Annarita Campo)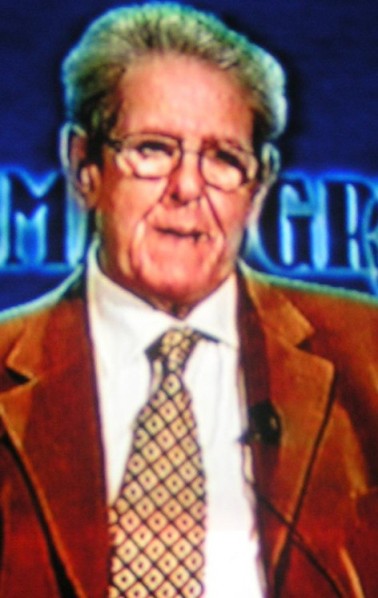 "I met Annarita Campo in early 2007, first by telephone and then in" aesthetic dialogue "by the vision of his film "Nel cuore di una diva". I was struck and fascinated me, the confidence with which Annarita headed actress a brilliant career which Sandra Milo. But I was especially attracted by the clarity with which passionate Annarita explore the theme of the mother worried about the sentimental choice of the child. I thought, drawing joyful confidence that the film had an independent future, if a filmmaker of just twenty-one had managed to make a movie interesting. Having carnet, however, a career began at the tender age of 14 years. This was the appearance of auroral intervention Annarita Field for heading Raiuno "Cinematografo", conceived and led by Gigi Marzullo, "says Napoli," for the enthusiasm with which perpetuates his experience to the boldness with which proposes to itself and literature young-the sample over the blackmail militia of industrial equipment, Annarita Campo is now a benchmark for creative freedom in the field of film artifacts and culture as a whole. "Nel cuore di una diva" is and remains a jewel of Italian cinema".